Google and Bing are the world's most popular search engines, both offering pay-per-click (PPC) advertising for companies to appear on the results page. So, which search engine should you use to advertise your business? Or, should you have both? Well, you're entering a heated debated, but we'll lay out the facts for you to be an informed buyer.
First and foremost, Google beats Bing in terms of user traffic, bringing in an unsurprising 64% of the world's searches. Yet, Bing Ads (which includes Yahoo search) still controls about a third of the market with 29%. Currently, significantly more businesses advertise on Google than on Bing, but that doesn't mean Google is the obvious choice.
Bing has a lower cost per click (CPC) than Google by anywhere between 10-24% depending on your industry. With less competition on Bing, it's also easier to get top positioning. A recent study even showed 34% higher click-through-rates on Bing, meaning it's potentially easier to get clicks. Nonetheless, that same study showed 6% lower conversion rates on Bing as compared with Google, so those clicks may be slightly less likely to turn into sales. Yet, other studies found contradictory findings, suggesting conversion rates depend on too many variables to pick a clear winner.
Bing also tends to give companies more control over their campaigns with the ability to target location and device by ad group rather than only by campaign. Still, Google has a significantly larger international market, where 85% of Bing searches come from within the U.S.  Furthermore, studies reveal that Google's advanced algorithm delivers more relevant results than Bing, making it more likely your ads will show on accurate searches.
Here's a more comprehensive breakdown of the pros and cons: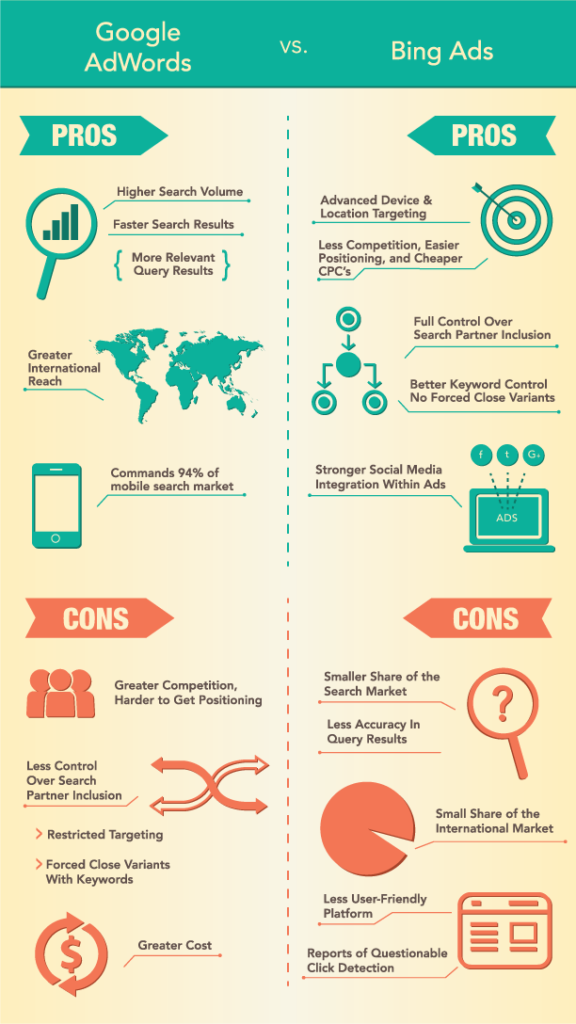 As you can see, there are truly strengths and weaknesses to each platform. More companies use Google AdWords, but there are a lot of others out there who swear by Bing Ads. Let's talk about how to decide which one you should choose.
Which Platform is Best For Your Business?
There are really two factors to consider when choosing whether to use Google AdWords or Bing Ads — the demographics of your target audience and the size of your company.
Demographics
Google and Bing have different demographic markets, making it essential to have a grasp on your target audience.
If your market is international… Google is the way to go. The search engine has majority market share in all but four countries in the world, as compared with Bing where 85% of searches come from within the U.S.
If you want to target younger users… Google is still your search engine. Statistics show Google's users tend to be white collar with no children, and generally more tech savvy. It's not surprising Google attracts the digital natives, since it controls 94% of global mobile search.
Looking at the future though, many of the new voice search devices default to Bing – services like Siri on iPhone and Amazon Alexa. As these devices grow, Bing might see an equivalent increase in traffic, especially from the younger generations.
If you want to target users 35-54 years-old… Bing might be your market. 40% of Bing's users are within that age bracket, tend to be blue collar, and have children. One third of Bing's audience also has a household income of $100,000 or more.
Company size
If you're a large company with a big budget, you should have exposure on both platforms to stay competitive. Luckily, you can import your Google campaigns directly into Bing Ads. If you're a smaller business with a budget of $20 per day or less, we recommend choosing one platform and really focusing on maximizing your results there. Bing is shown to have cheaper CPCs, so it's possible to get more value for your money. But, you won't reach as large of an audience and you should consider your target market against each search engines' demographics first.
If you're still not sure which route to go, we usually recommend starting with Google. It's a little more established, and its overwhelming popularity cannot be ignored. It also never hurts to run a test — try both platforms, and see what works. If you have any more questions about PPC programs, don't hesitate to reach out – marketing@web-kare.com